Photosynthesis can be a tricky subject. Sometimes, students don't even know what an atom is when they start learning about photosynthesis (or at least that's true in my class), so it's complicated to introduce them to concepts such as reactions, molecules, and other important concepts.
That's why I'm recommending you some photosynthesis activities, because I have tried and tested them and they have proven to be valuable for me.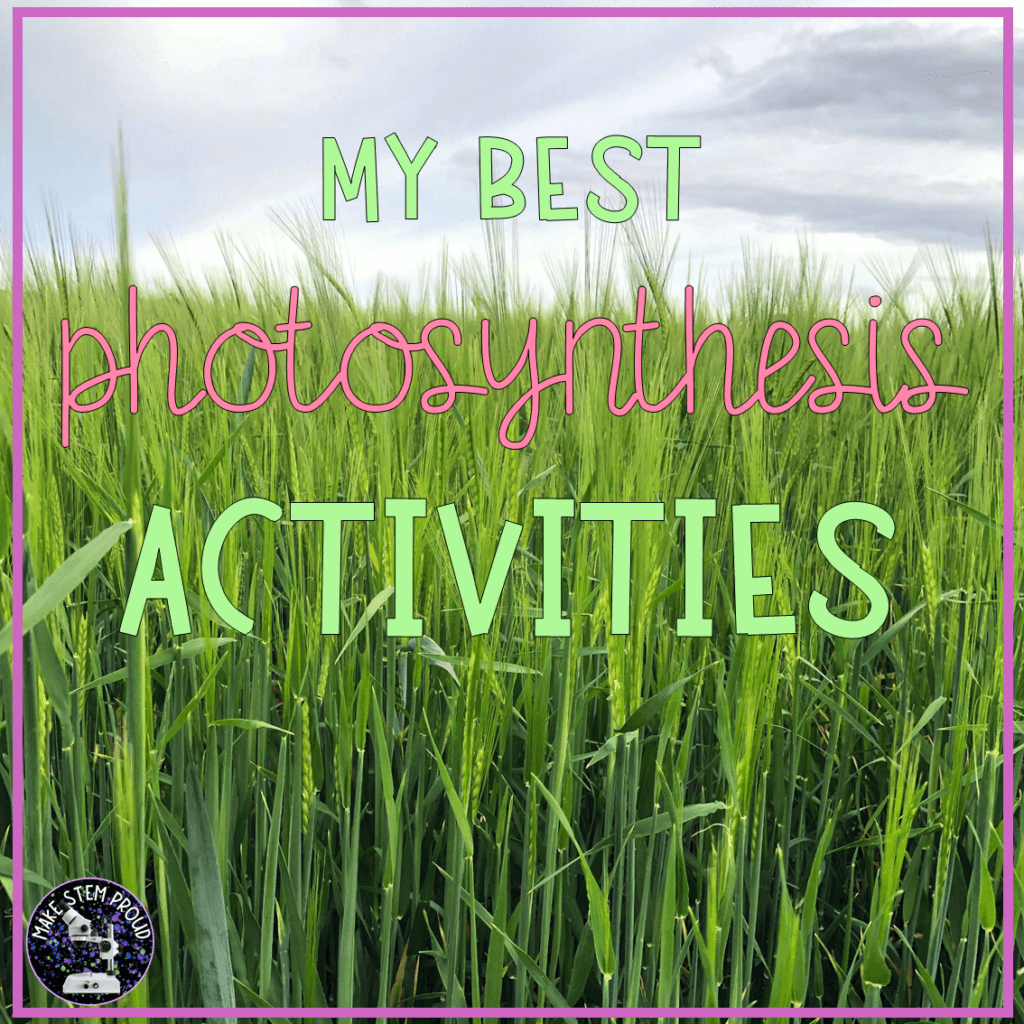 Photosynthesis activity #1: Stomata observation
The first of the photosynthesis activities I can recommend to you is a lab activity. One of my favourite things to do with my students is have them look under the microscope. Their faces light up when they look through the microscope.
The activity for stomata observation is super easy (that's why I haven't created a specific blog post).
I would use this as an introductory activity to plants, and specifically to leaf structure. I would do this activity and then start a socratic discussion about what exactly it is that they are seeing, what that structure might be used for…
You will need:
Any leaf (I have tried a couple and they both worked)
Transparent nail varnish
Cellotape
Steps to follow
1- On the underside of the leaf, paint a section of the leaf with the transparent nail varnish
2- After drying the nail varnish, paste some cellotape over the sections you painted
3- Lift off the cellotape and stick it onto a microscope slide
4- Observe the slide under the microscope
Photosynthesis activity #2: leaf disk flotation lab
The idea of this lab is that you make a study of different variables in photosynthesis. This is a popular lab to do, and it's very easy, it has cheap materials, and it's a good example of photosynthesis.
There is a complete blog post detailing the instructions, that you can visit here:
I absolutely recommend you use a lab like this in your lessons, to make sure students can see the results of photosynthesis in a clear way. You could use this activity as an introduction to the photosynthesis formula.
Photosynthesis activity #3: The circle of life
After you have introduced the formula, you can walk them through the following photosynthesis activities.
I had my students draw it in their notebook as they received the lecture from me, and this free resource from TpT was nearly perfect. If it were not nearly perfect, I would not be including it in my roundup.
The only thing is that the reaction is not adjusted, so I took the opportunity to get out the following two activities.
Photosynthesis activity #4:
In this activity students can adjust the reaction, and visualize each of the components. You can assign this activity directly to your students. It's excellent.
This last simulation is the «plus». It's what I put as a pickle in my class, so they can pick that activity to do as a voluntary assignment.
If you also want to do this, you can access the slides I use to do the «mustard, ketchup, pickles» in my class.
If you want the images I use in my slides, you can sign up to my email list.
If you decide you want to try any part of the post, please leave a comment with feedback or share the results on instagram, mentioning me.
And make sure you go to the blog to check out the rest of the most recent ideas, you have some posts to check out below!
Continue to make STEM proud!